If you are playing an Airsoft game with close encounters there's no doubt that SMG's or sub machine guns are good weapons to have. They have a lot of recoils and its easy to keep on target, basically just a lot of fun to shoot with.
In this article, I will cover my top 5 best airsoft SMG's and explain why they are my picks.
These are Our top Picks Summarised For:
1st October 2023
What a good Airsoft SMG?

The best airsoft SMG guns are those with superior rate of fire, velocity and optimal comfort. Truly elite automatic airsoft guns are light in weight, easy to hold in cramped spaces and fun to shoot. In short, the best airsoft SMG guns are those that feel and shoot like real guns. Some airsoft players rely on SMGs as their primary weapon while others use them as sidearms for their main gun, typically a sniper rifle. Above all, the SMG you select should feel comfortable in your hands and shoot with accuracy.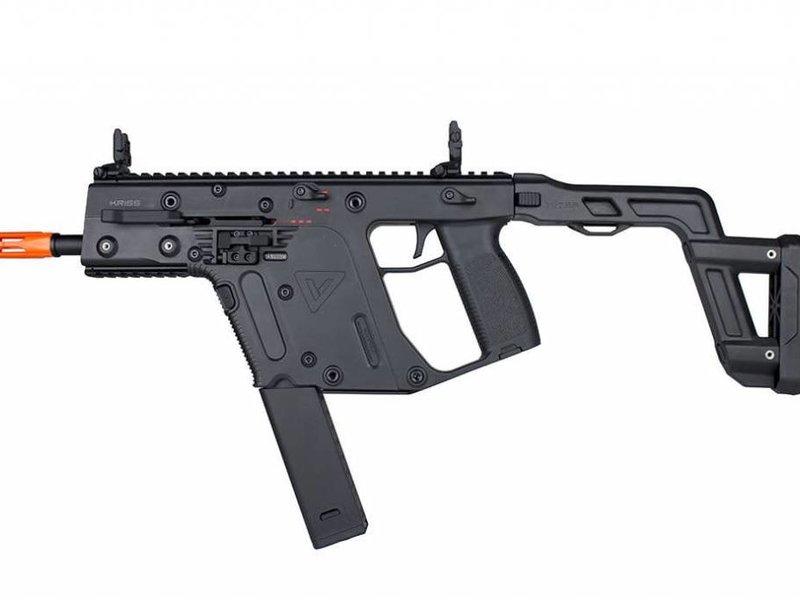 A SHORT OVERVIEW:
This airsoft gun features a redesigned body with the best aspects of the original KRISS Vector combined with a lot of enhancements.
Only 3,000 such rifles were produced so don't delay scooping up one of these bad boys right away. Check out the Gen 2 full metal upper receiver and you will find it is authentic, durable and visually pleasing.
Ambidextrous controls highlight the rear folding stock, allowing the player to fold to the eight or left based on his or her preference.
If you are in the market for a well-built limited edition airsoft SMG that your friend will envy, look no further.
Features

Limited edition 340 FPS 
5.73 pounds 
280mm inner barrel 
Works with 11.1v LiPO 1000mAh battery 
8mm vertical gearbox
Quick-change spring design Wear and temperature resistant buckings Accommodates a plethora of sling options
PROS: THINGS WE LIKED
Extended outer barrel
M-LOK handguard protects the extended barrel
Extra space along the battery compartment
Limited edition
CONS: THINGS WE DIDN'T LIKE
Comparably expensive
Bulky build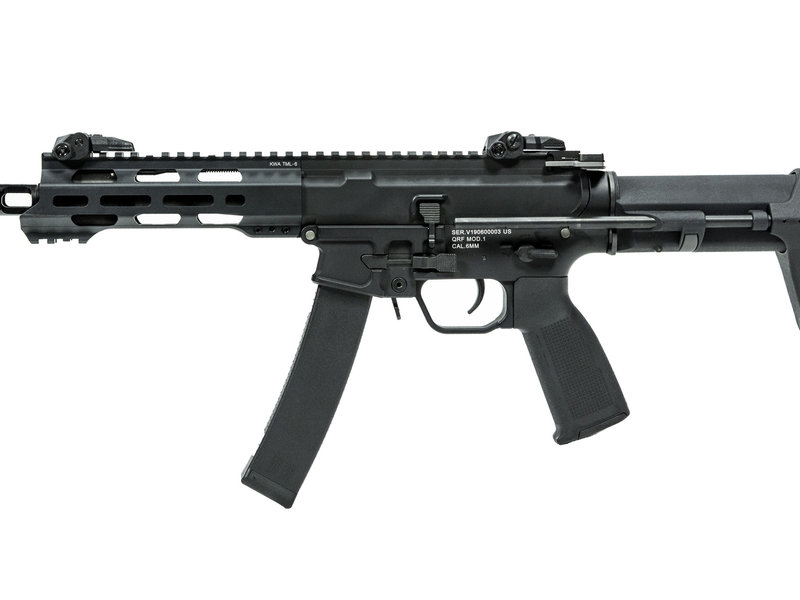 A SHORT OVERVIEW:
This is one of the coolest looking airsoft SMGs on the market. Pick up this beauty, hold it in your hands during the heat of combat and you will agree it is one of the best airsoft SMG guns in terms of ergonomics. 
The Scorpion is an electric gun that is LiPO ready and sure to provide hours of fun. Highlighted by real steel features, this piece is ready for firing action thanks to its Wolverine Inferno Generation 2 HPA engine.
This is one of the best airsoft SMG guns on the market. Take this beast out onto the field of play and you will not be disappointed.
Features

400 PFS 
5.3 pounds 
210mm inner barrel 
6.04mm barrel diameter Variable fire rate
Pre-installed Wolverine Inferno Generation 2 HPA engine sure to please 
Single moving part for optimal functionality 
Can be adjusted and set in a single minute or less 
Metal and Nylon-fiber construction 
Lightweight
PROS: THINGS WE LIKED
Rapid fire rate
Front sight has high visibility
Elite engine
Empty magazine detection
CONS: THINGS WE DIDN'T LIKE
Somewhat expensive
Plain black color will not appeal to every player
A SHORT OVERVIEW:
This lengthy SMG airsoft gun is affordable and looks uber-cool. Rattle off shots with this electric SMG and you will find it is easy to manage during daylong skirmishes, accurate and solid in just about every regard.
The gun's M-LOK handguard can house all sorts of helpful accessories.
The rail section has a picatinny rail for a flashlight or foregrip, sure to please players of all skill levels.
This is a sizable airsoft SMG with mass appeal.
Features

5.48 pounds 
184.15mm inner barrel
315-378 variable FPS 
AEG 2.5 gearbox
Patented paddle magazine release 
Durable and lightweight 
Polymer front/rear sights are flip-up style
PROS: THINGS WE LIKED
Adjustable FPS Quick change spring system
Universal design to accommodate aftermarket units
Add your selected optic scope with the full-length
20mm picatinny accessory rail
CONS: THINGS WE DIDN'T LIKE
Large and bulky
Comparably low FPS
Plain aesthetic
A SHORT OVERVIEW:

This competitively priced airsoft SMG looks and shoots like a real gun. The Amoeba is compact yet fires with speed and power.
Give this gun a chance and you will find it shoots with accuracy and is quite comfortable thanks to its lightweight and unique design.
If you prefer a compact gun and do not mind a comparably low FPS, this SMG is for you.
Features


300 FPS Tightbore inner barrel measures 6.03mm 
Full V2 metal gearbox 
6063 CNC Aluminum and durable polymer construction
Compact design 
Firing modes of semi auto, auto and safe 
Built to last
PROS: THINGS WE LIKED
Compact design will appeal to some players
Easy to transport
Amoeba mock silencer included
Uber-durable
CONS: THINGS WE DIDN'T LIKE
Fairly small in size
300 FPS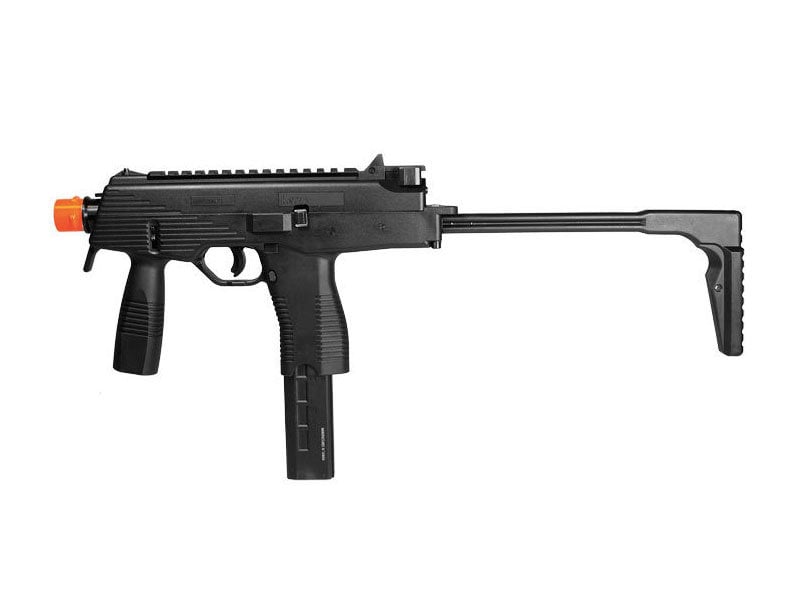 A SHORT OVERVIEW:
Featuring one of the most unique designs in airsoft gun history, this gas blowback gun provides 380 FPS with .20 BBs.
The gun is not exactly easy on the eyes yet it functions without flaw.
If you favor function over form or simply enjoy airsoft guns with unique looks and do not want to spend more than $300, this gun is perfect for you.
Features


380 FPS 
Shoots 0.20 BBs 
48 round magazine 
NS2 gas blowback feature Picatinny rail interface system
Unique design
Relatively high FPS 
Accurate shot
PROS: THINGS WE LIKED
Distinct aesthetic
Affordable
CONS: THINGS WE DIDN'T LIKE
Some players might not appreciate the gun's idiosyncratic design
Things To Consider & FAQ:
What is the best airsoft SMG?
Experienced airsoft players agree the ASG CZ Scorpion EVO is one of the premier SMGs on the market. This gun is as much fun to fire as it is to look at. Featuring the perfect blend of function and form, this SMG is easy to use, light in weight, shoots at 400 FPS and will prove reliable across posterity.
What airsoft gun has the highest FPS?
The M700P Sniper Rifle FPS-720 has the highest FPS, shooting in excess of 700 FPS. While most other airsoft guns top out around 400 FPS, this piece takes it to the next level. Rattle off shots with this beast and you will find it really does exceed 700 FPS with each shot. Even if you use comparably heavy .25g BBs, this gun will still send them flying with a minimum of 600 FPS. The M700 P Sniper Rifle's exact specifications are a FPS of 720 and a magazine capacity of 10, highlighted by an all-metal and bolt action design.
What is the best airsoft gun for beginners?
Airsoft aficionados agree the G&G Combat Machine 16 Raider is the perfect gun for airsoft newbies. This gun is made to take a beating and keep on firing. Lick off some shots with the CM16 Raider and you will find it is easy to use, is of high quality and most importantly, shoots with accuracy. The gun is built with a 20mm RIS/RAS full length top rail to attach scopes, sights and other accessories. The gun also has a four-point 20mm handguard to add on grips, bipods and additional aftermarket attachments, leaving ample space for whatever modification you have in mind. Think of this gun as a canvass you can shape and design however you desire.
Conclusion
So there you have my top 5 best airsoft SMG's. If you been doing some research you probably found countless weapons online. I focus on reviewing the best options available for today's market.
If are not shure what weapon to choose you can follow this buying guide or check our buying guide for DMR guns. Be sure to check my articles on types of games to understand more about the world of Airsoft.
Finally, once you decided which will be your main weapon be sure to check my guide on the best airsoft pistols.
I hope you found this buying guide useful. You can get in touch if you have any doubts.