Best Airsoft Sniper Rifles
Airsoft is one of the intense and challenging sports which replicates the real gunfight. Not to mention it is also used as a training method to increase the shooting accuracy and another necessary skill set of a marksman. So, as fun and intensity of a sport as it is also pretty useful for military purposes.
And if you want to enjoy a good airsoft game yourself there is no denying the impact of a good rifle or pistol.
Sniping is one of the most important roles in an airsoft game. If you should develop some basic skills for playing as a sniper. You got to choose a good airsoft rifle for you too.
Different airsoft player tends to have different taste in a weapon. One rifle might be favorable to one person and might not be appealing to others, it' fine I guess. You will have to find what is good according to your taste as well. So, to find what suits you let's discuss some of the best airsoft sniper rifle.
Best Airsoft Sniper Rifles
BBTac BT59 Airsoft Sniper Rifle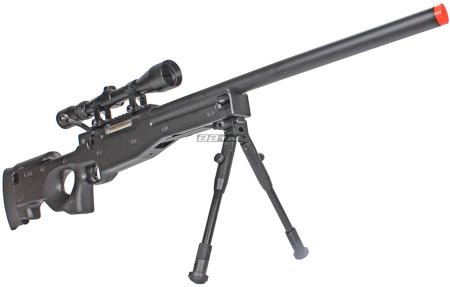 BBTac BT79 is one of the most popular airsoft sniper rifles out there. This rifle comes with a bipod that makes it a lot easier to take a long shot. BT59 uses .20 gram heavy BBs to fire at up to 400fps which will make a powerful impact on your target. Unlike most of the airsoft sniper rifle, BT59 comes with an adjustable scope.
Its magazine can hold around 20-30 Ball Bullets (BB) in it. But, I wouldn't suggest you put 29/30 bullets in it. Because then there might be a big risk of spring failure. Well, as it is a spring action sniper rifle, you should not compress too much of its magazine.
BBTac BT59 is mostly made of top-grade iron. The stock, orange tip and the butt pad is made of ABS polymer. Therefore, you will have no problem even in an intense airsoft game.
The material used to make this sniper rifle is mostly top-grade cast iron, tough abs polymer is used to make the stock, butt pad, and the orange tip. These materials make this airsoft gun sturdy for an intense shooting experience. It is most appropriate to use 20 grams BBS for a quote accurate shot on target.
Pros:
BBTac BT59 comes with a scope.
The Cheek rest of it is easily adjustable.
BBTac BT59 is quite easy to use
It is comfortable to use.
Accurate shooting
Cons:
The design needs improvement
Very underpowered
Wellfire APS SR-2 Bolt Action Sniper Rifle
Wellfire APS SR-2 Bolt action uses a spring to fire the BBs. As a bolt action rifle Wellfire needs to be cocked after every shot you take with it. Because it's a spring action gun & it works on mechanical power. This sniper rifle has a full metal tight bore barrel. Therefore, it can provide a long-range shooting. And as its barrel is fully metal, it lasts for a pretty long time.
The velocity of Wellfire APS SR-2 is about 470fps. It comes with a bipod which is both removable and foldable. Its stock is efficient and stylish which is made of synthetic.
Pros:
APS SR-2 is a powerful spring gun.
It has a very efficient pistol grip.
It has a strong steel barrel.
Appropriate Picatinny rail.
It does have a flexible bipod.
Cons:
Wellfire APS SR-2 doesn't have an iron sight.
It requires to buy the scope separately.
UTG Gen 5 Airsoft Master Sniper Rifle
UTG Gen 5 is a bolt-action sniper rifle that comes with a bipod to have a stable shot. You will also get a cleaning rod and three butt pad with it. The classic design is one of the things that will attract you for sure. When you get a hand on this rifle after purchasing, you will find it in two pieces. Well, you have to assemble it first.
If you are a beginner you might not want to start with a UTG Gen 5 sniper rifle. Why do you ask? Well, the main reason is it's being a bolt action rifle. You will find it difficult to get used to it. But, after a while, once you get used to it, you will enjoy the bolt action mechanism, realistic look and weight of it at the fullest.
You will get no scope with it. But to use the high accuracy of it, you will definitely want to add a scope with Gen 5. With the help of a good scope, you can take accurate shots from a long distance.
It really sounds great when you load your shot. Because, the trigger, barrel, and the inner mechanism are metal. However, the body of it is made of plastic.
Pros
Smooth bolt action.
Comfortable bipod.
Not Fragile.
Cons
Mb07b model 700 airsoft spring sniper rifle w/ bipod, flash hider(Airsoft Gun)
This MB07 is a spring action sniper rifle that comes with a 24.5-inch barrel. Its magazine can hold 30 rounds of BBs to fire. MB07 has adjustable as well as integrated top and front rails. This is probably the best value for money airsoft sniper rifle you will get out there.
As the ergonomic design of the grip helps to shoot, it makes the rifle a lot more comfortable to use. No, it does not come with a scope with it. You will have to buy a scope separately.
This bolt action sniper rifle is designed after the Remington 700, the scope from Remington fits it perfectly. And it makes it unstoppable let's say. Though the scope of Remington may cost quite a few bucks it's worth it. However, if you are not willing to spend that extra few bucks, I will suggest you find a 7/8" mount scope.
Pros:
Excellent value for money
High velocity of 450-500fps
.20grams Ball Bullets
Comes with a bipod
Cons:
Don't have a scope with it
M14 Spring Airsoft Sniper Rifle
This one is a realistic replica of the original M-14 rifle which uses 6mm Ball Bullets (BB). There is no need for gas or any battery as it is a spring action airsoft sniper rifle. This 1:1 scale replica of the M-14 is just as same size and feel as its original. Its firing accuracy is pretty impressive with decent power. The metal barrel can throw the .20g BBs at 270-280 FPS.
This 6.8-pound airsoft sniper rifle is 36 inches long with a flashlight, Red dot optic, sling, and a speed loader. The detachable magazine holds around 35 BBS.
Pros:
High accuracy at shooting.
Mostly metal construction.
Realistic replica.
Cons
Rail Interface System blocks the iron sights
Flimsy rear sling mount
Follow us on Pinterest: AirsoftHow