Is Tokyo Marui the Best Airsoft Brand?
Tokyo Marui is a Japanese manufacturing company. They manufacture toy cars and airsoft guns. Their headquarter is situated at Adachi in Tokyo. They generally sell their airsoft guns in Japan. However, the market of Tokyo Marui's airsoft gun is worldwide right now.
What is Tokyo Marui Well Known for
Tokyo Marui is well known for its original design of the battery-powered airsoft guns. They had an airsoft field of their own by the way. The airsoft field is called Tokyo Marui BB Sports Field.
And speaking of airsoft fields, do you want to know about the airsoft fields near you in the United States? Check this post about Airsoft Fields in the United States.
Their Airsoft guns are top-notch in terms of quality and design. And they are so popular that their airsoft guns frequently appear in various movies and series.
Short History of Tokyo Marui's Airsoft Guns
Tokyo Marui started as a toy manufacturing company at first. Soon, they entered the radio-controlled car (also known as RC Cars) niche and dominated their market.
Later they decided to enter the airsoft market as well. As they had pretty good knowledge about electric motors, they created Electric Airsoft Guns which is also known as AEG.
Before the AEG guns came in, the airsoft guns we used, the cocking of it was manual. So, when they brought this automated cocking to the airsoft guns, the airsoft community accepted it immediately.
And just like the RC Cars, Tokyo Marui begins to dominate airsoft guns' market as well.
As the Electric Airsoft Guns became more and more popular, many other companies also tried to catch the market as well. But they simply couldn't win the race against Tokyo Marui's superior products.
They were mainly popular for 5 reasons.
1) Reliability
Tokyo Marui is really reliable when it comes to electric airsoft guns. Unlike the other companies that brought electric airsoft guns, people found all of the guns they manufactures top notch in terms of quality.
2) Accuracy
Be it airsoft or a real firearm, accuracy is of the highest concerns.
You cannot have a bad accuracy of shooting in a gun and still call it a good gun to begin with.
Accuracy is the last thing you would want to sacrifice in even a budget-friendly airsoft gun.
Tokyo Marui always gives their customers the electric guns with an excellent accuracy level of shooting.
3) Build quality
One of the main reasons why Tokyo Marui stood above others was the build quality of their airsoft guns.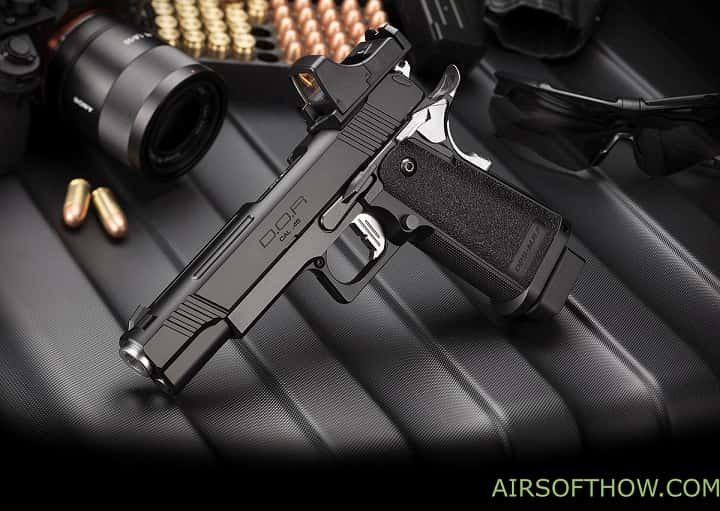 Tokyo Marui made into movies
At the beginning of the 2000s their product began to show up in the Hollywood movies more often. It is because by that time they made their products better and better. And more realistic than the rest of the airsoft gun manufacturing companies.
Tokyo Marui's supreme quality and impressive build-design and realistic look made it so popular even among the non-airsoft players, like Hollywood movie directors.
For example, in the movie named Kingdom, the director decided to use an airsoft gun. Can you guess which airsoft gun they picked?
Yapp, they used Tokyo Marui in that movie. If you haven't watched the movie, then go watch it or the clips of it.
In the action scenes, the soldiers used Tokyo Marui Sig 552.
6 Major turning point that made them famous
So, what are the gun types that made them this famous and one of the biggest giants in the market?
We are going to discuss the 6 major turning points of their business and what products they brought that earned them a fortune.
Tokyo Marui Luger p-08
Luger p-08 was not a fast airsoft pistol or neither did it shoot far. However, it was the first 9mm pistol in Japan.
It quickly became the best-selling airsoft pistol in Japan with its spring action shooting mechanism and ABS body.
Tokyo Marui released Luger P-08 in 1985.
Tokyo Marui S&W M59 GBB
M59 has a different mechanism compared to the other gas blowback pistols we know now.
It was the first gas blowback pistol at that time. After the S&W M59 GBB, TM decided to launch a second pistol the same year.
It was HP Browning Gas Blowback Pistol.
Tokyo Marui released the M59 GBB and HP Browning GBB in 1986.
Gas Blowback and Spring Powered guns
At that point they remained stuck making the gas and spring powered airsoft guns.
They made rifles and sub machine guns as well as the pistols in those shooting mechanisms.
Electric Airsoft Guns (AEG)
They first made FAMAS F1, electric airsoft gun. Later, they improved that and created a better version of it. The improved ones is known as Colt M16A1 AEG. The Colt M16A1 quickly became widely popular.
Tokyo Marui released FAMAS F1 in 1991.
FA-MAS SV
TM launched their first FA-MAS SV which  included the hop up system. It had a longer shooting range despite of having low power.
They introduced the FA-MAS SV in 1993.
Desert Eagle.50AE
Tokyo Marui launched a more powerful and realistic blowback pistol named Desert Eagle .50Ae.
They launched this powerful airsoft pistol in 1995.
At the beginning of 2000 Tokyo Marui started manufacturing more and more airsoft guns. They begin to expand their business outside Japan by exporting them worldwide.
Their supreme quality and realistic look made them all the more popular around the world.
Trending Tokyo Marui Products
Do you want to know what are the most trendy Tokyo Marui Airsoft Guns? These are the most popular TM products-
Tokyo Marui VSR-10 Pro Sniper
They are undoubtedly the biggest giant in the airsoft accessories market. No matter what kind of gun do you use, or what kind of roles u prefer to play, they got your back. They have a wide variety of weaponry.
in terms of sheer quality, they are compared to none. They have created their own margin of standard which they maintain very strictly.
So, if you want to buy an airsoft gun, we will recommend Tokyo Marui as a reliable brand.
And yes, they are indeed the best airsoft brand.
Sources of info: Wikipedia