What are the best airsoft guns? In this very article, we are going to find out together.     
There are dozens of factors that decide the airsoft games. Airsoft is not the kind of game that you can win solely based on your skill level. It also depends on your teammates, the venue and sometimes the luck itself. But most importantly it depends on your airsoft guns.
If your friends have the best airsoft guns possible and you have the cheapest guns and accessories, it is quite obvious that they will have the upper hand. They will get more accuracy, from a wide range and almost no malfunction. Now, if what you have is the total opposite of them, trust me, you will face a hard time playing airsoft.     
Taking a closer look: what is an airsoft gun?     
I have faced some severe malfunction during the airsoft games. I used to use some 20-30$ crappy airsoft rifle and they gave me a very poor experience. It is absolutely frustrating. So, let me help you to find the best airsoft guns. Therefore, you do not have to go through the same experience that I went through.    
Before we jump into the discussion, let us know about what airsoft gun actually is. Airsoft guns are actually replicas of the real firearms. However, unlike a real gun, these guns throw plastic pellets also known as bb.
Though the term bb originally used for the ammo of the bb guns. But the airsoft players stick to the name and use it for the plastic pellet which is the ammo of the airsoft guns.     
(Best Airsoft Gun for Pros)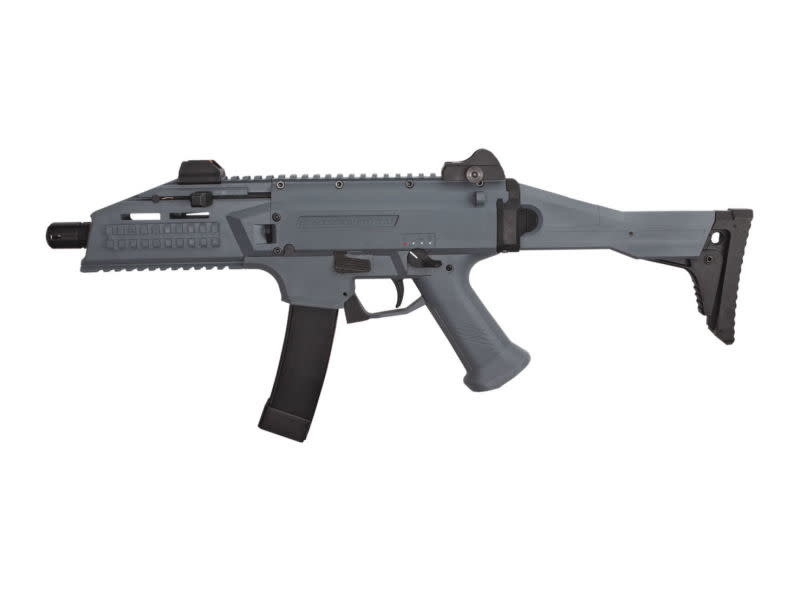 A SHORT OVERVIEW:
The ASG Scorpion EVO 3 is a replica of the 9mm carbine submachine gun. It is hands down the best airsoft gun I have ever seen. Of course, I am not talking about the sniper or handguns.     
As a primary weapon, this beautiful replica outperforms everything else.     
Who are the Best Users?   
The best users are the ones who can afford more than 400$ for an airsoft gun. If you have the budget, it does not matter whether you are a newbie or a professional this is the best gun for you. But if you do not have that kind of budget or prefer the beautiful exterior look of an airsoft gun, Scorpion Evo 3 might not be the best for you.    
Known for   
Scorpion Evo 3 is known for its godly accuracy in the field. No matter where you are playing, indoor or outdoor, you can always count on this rifle. Evo 3 is reliable and durable. If you are someone who has been playing airsoft for quite some time, at the right hand, this one can become devastating for the enemy line.  If you are particularly interested in SMG guns here's an article that covers the best ones. 
PROS: THINGS WE LIKED
Stabilized firing rate
Smooth and very consistent firing rate
Not too heavy for newbies
CONS: THINGS WE DIDN'T LIKE
Magazine size is 75 rounds
Does not look very flashy or appealing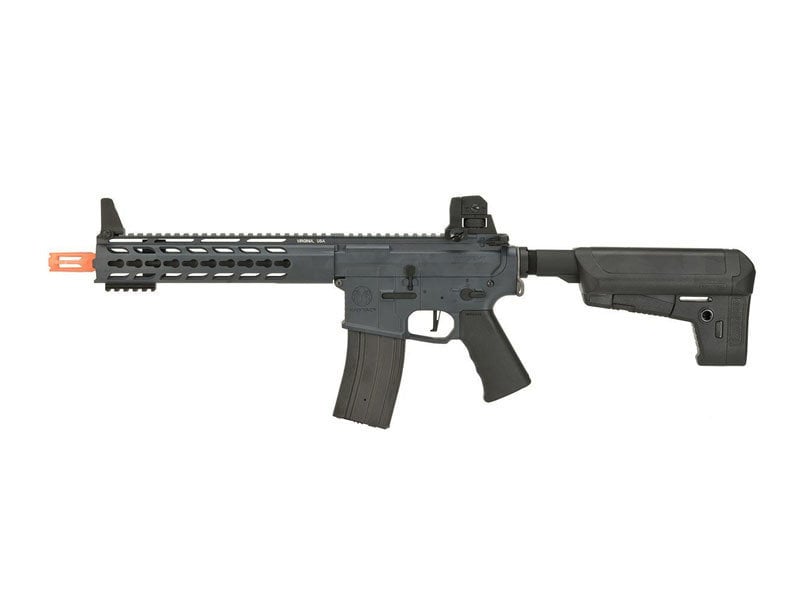 A SHORT OVERVIEW:
KRYTAC  is making the Airsoft Guns with some unique Features and Innovation, and this is the reason they are the choice of many players and capable enough to take their spot on the list.
This MK2 version made by KRYTAC Features a Keymod rail for the attachment of accessories also for providing a good Grip.
The Barrel is 10.5 Inches and Metallic. Its receiver gained a Modern look after being redesigned, with the Logo of KRTAC over it. The Trigger guard is better and Larger than the most guns, making fire easier.
The Pistol Grip is sleek and comfortable to Hold. It locking Bolt provides quick access to the hop-up system. The Stock is standing retractable and serves as a compartment for the battery. The Stock also has QD sling swivel attachment or strap type loop attachment.
Internally this gun has an 8mm ball bearing metal booking, reinforced metallic gearbox and metallic gear set for reliability.
The gearbox has a modular spring guide system that allows change of spring without disassembly of the gearbox. So, overall, this gun is exceptional in its built quality externally and internally.
Features:
Full Metal Body
Aluminum Receiver
KRYTAC gearbox with integrated MOSFET
Ambidextrous control
Adjustable Rotary Hop-Up
Realistic locking Bolt & Bolt Release
FPS: 380-400
Long type Motor
Semi, Full Auto, Safety Fire Mods
Performance:
Like its Premium Built Quality, this MK2 never disappoint in performance. For close to mid-range battles, and long-range combats, this gun has the ability to shoots at a pretty good rate and consistency.
The consistency, when added with comfort, made this gun perform brilliantly in the battle. The range of the gun is also quite Good and can fire up to 100 Feet.
The Best Part is, it shows all this exquisite performance without any upgrades. Rate of Fire is also impressive with a good trigger response. If you have ambitions for aggressive gameplay this is the gun will not disappoint you.
You can maneuver the gun easily during combat that can make performance better. Since the gun has a full metal body it is quite realistic with all advanced features, but for some people, it is difficult to handle this gun, with practice this gun comes in hand swiftly and can become your primary Airsoft Weapon. 
PROS: THINGS WE LIKED
Top Notch Built Quality
Sturdy and Accurate
Good FPS for Long Range
CONS: THINGS WE DIDN'T LIKE
Keymod Rail makes attachments Hard to Attach
Paint Quality
A SHORT OVERVIEW:
This airsoft gun is really lightweight. And the small trigger design makes it really easy to shoot faster. But at the same time, if you have a big hand the trigger guard makes it hard to shoot. So be aware of that if you are planning to buy the VFC Avalon Saber. This one can shoot at 370 or even higher fps, so despite being so lightweight it is still very powerful.  
One other thing that would attract you to this airsoft gun is its beautiful design. 
Who are the Best Users?  
 The best user for the Avalon Saber is the people who like to carry light weapons. Both for the beginners and the advanced airsoft players, this is a very good choice. 
Known for/unique feature 
Avalon is known for its design, being lightweight and yet powerful at firing shots.  
PROS: THINGS WE LIKED
Medium capacity magazine (120 rounds of bbs)
Nice trigger design
Accurate and powerful firing
CONS: THINGS WE DIDN'T LIKE
No battery is included in the packet
A SHORT OVERVIEW:
KWA is Famous for making Top Notch Airsoft Replica Weapons and stands as a Leader in the Airsoft World. This is the second KWA gun in the list but the first Gas Blowback.
When it comes to realism no other type of gun can compete the Gas Blowbacks. There is not any uncertainty in say that a GBB made by KWA has enough ability to stand in the "Best Airsoft guns" list.
This gun has a unique and beautiful design and feels very compact. It features CNC aluminum upper and Lower Receivers. Pistol Grip is made of Nylon that is impact resistant, and the sleek hand-guard is also of Nylon.
The perfect hand-guard makes the grip very comfortable. The stock is the traditional M4 style with the same retractable Features. The Weight of Gun is also good, making it a professional training rifle. Overall the Built Quality is top-notched.
Features:
Metallic Construction
Adjustable Rear and Front Sights
Rear Sight Detachable
Perfect upper receiver for Optics
6 Position LE stock
Adjustable Length
Gas Type: Green Gas
FPS: 360-380
Adjustable hop-up
Performance:
A lot of People prefer GBB over the AEG gun, probably gas blowbacks give better performance in the field. Talking about the performance of this gun, it performs a lot better than the AEG of the same price.
The FPS is consistent. Range and Accuracy of this gun make it a fierce competitor in the Market. The feature of Blowback when added with such variety and accuracy, it feels like you are holding a real gun. Its professional training rifle features make it stand high than expectations.
You can get the fantastic feel of Fire rate, trigger response and perfect grip with this gun which burgeons the performance. Due to its consistent FPS and not very high FPS make it ideal for CQB. The Best part why this gun performs extraordinarily is "This gun is straight forward to use".
One thing that can distract you is the weight, if you are using a GBB for the first time, it may be difficult to tackle this gun but as you become familiar, you will appraise its realism.
PROS: THINGS WE LIKED
Feels Solid
Satisfying Shooting
CONS: THINGS WE DIDN'T LIKE
Bit Heavy
Less magazine capacity
A SHORT OVERVIEW:
When there are so many M4 Models in the market, many players want to choose different that is equally competitive. This is the Gun that is really getting the attention for the Features it has.
F1 Firearms are famous for their brilliant skeletonized framework, and EMG has made this F1 firearm look precisely the same.
Talking about the appearance of the gun, it has a C7k handguard on which you can attach your accessories. On the top, you have a pica-tinny rail for accessories. On the front, there is a Contouring, that allows you to grab this gun and make shooting comfortable ideally.
The skeletonized work of this gun makes it lighter in weight. Also, the trigger guard is large. These Features make this Gun Easy to use.
Coming to Back, it is also ambidextrous, and as a retractable stock. It uses silver edge Gearbox, which includes a fully upgradable spring box. This makes it possible to change the spring without the entire disassembly of Gearbox.
Initially, it is an EBB, electric blowback, which gives it a realistic function, but if you are not a fan of EBB, you can replace it as well.
Features:
Made of Aluminum Alloy
Light Weight
Very Efficient Gearbox
Anodized Finish for Durability
FPS: 380-410
Semi-Auto, Auto and Safety Fire modes
Adjustable Hop-up.
Performance:
This Gun can perform way better than expected. It's slightly lightweight and Good Grip makes it comfortable to use. These guns can shoot at a Pretty Good speed. You will feel very Realistic in using this gun. You will very comfortable with this gun even if you play in the rain.
One thing we must Mention is The accuracy of this gun is unmatchable. If want to increase your performance in the game this gun will surely help you out very high efficiency Gearbox probably the best one in Market. With these innovative Features, this Gun is surely one of my Favorites.
PROS: THINGS WE LIKED
High Durabilty
Consistent FPS
Easily Upgradeable
CONS: THINGS WE DIDN'T LIKE
Unsteady Receiver
Gearbox can be affected by Dirt
A SHORT OVERVIEW:
Well, now we are discussing the gun that according to some people may not perform as well, as expected from the KWA rifles, but personally, we really like this gun, and the reason is its classical design.
This replica version of AK 74 is famous in airsoft world by electric recoil airsoft gun, for some, it is not a good thing, but it adds a dash of realism to the gun.
Talking about the appearance, it is a pretty stable gun, with some parts made of metals while the polymer is used at the others.
The stock is foldable, but you can't adjust the length because it is AK74. The Handguard is also pretty solid. Like H&K MP5, a battery system is located in the front handguard, but it is not complicated as in MP5.
This gun shares the Newest Features of recently introduced AEG system with AEG 3 gearbox, also the recoil with the KWAs Kinetic Feedback system.
It also a unique system SLE or switch life extender to minimize the inevitable damage after the trigger contacts. This gun also a magazine cut off compatibility system with the quick-change spring system.
Features:
Metal Receiver and Barrel assembly
Polymer handguard and stock
Front and Rear sights adjustable
Mechanical cut off only with KWA magazines
FPS: 380-430
Long type Motor
Semi, full auto, safety Fire Mods
Adjustable Hop-up
Performance:
If you are not satisfied with the design of these rifles, you should go with its performance. This Updated KWA AK 74  version with its recoiling gearbox adding a new realism to the gun. With this ability, it shoots at a pretty good rate with high consistency.
Its fire rate is also very satisfying. But one thing we must mention about the performance is when it takes the recoil it feels that it is escaping from your hands, which leads to not a satisfactory performance.
You should have a firm grip for better performance; otherwise, you can't survive with this gun. Accuracy is good but not what we were expecting from this Gun.
PROS: THINGS WE LIKED
Good Range
Solidly Built
Realistic
CONS: THINGS WE DIDN'T LIKE
Lacking in accuracy
Battery Ends Faster
A SHORT OVERVIEW:
KJW is an emerging Airsoft brand. It is famous for its M700 sniper rifles but also manufactures equally supreme Gas Blowbacks. Keeping this thing in mind we have selected KJW KC-02 as the second gas blowback gun in our List.
Gas Blowbacks compete with AEG and beats them in realism, this gun does the same. Taking about the appearance, It has a unique and beautiful design. The Barrel is a bit lengthy for emitting pellets at a good speed.
The Front hand-guard has non-classical appearance best perform in battles for quickness. The pistol grip is made up of polymer/Nylon for a comfortable grip.
Upper Body has a rail for the attachment of accessories. The stock is a classical M4 style with retractable features. The weight of the gun is not so high, making it easy to handle. Overall the design is compact.
Features:
Nylon/Aluminum body
Adjustable Front and Rear Sights
FPS: 380-400
Semi-Auto, Safe fire Mods
High-efficiency Gas system
Adjustable Length
22 rounds Magazine
Fully upgradeable
Uses Green Gas
Performance:
This is Basically Mid Range Gun and shows quite Good Performance. It is not as expensive as other gas blowback guns. Due to its design and style, it is efficient in both long and short-range combats. You can also expect Good accuracy from this gun.
Being Light Weight, it wouldn't disturb you during the combat. The Light Trigger pull of this gun makes more accessible for a new player to perform better with this gun. The Blowback of this gun is also excellent; you will get a drastic feeling of realism in this gun with a Good sound. The best part about this gun is its consistency.
So giving an overall view of the gun, this is probably the best GBB in the affordable price range. It shoots at good speed, having good accuracy and Range as well, very Durable and attractive design. If you like Gas Blowbacks, you can choose this as your primary weapon.
PROS: THINGS WE LIKED
Upgradeable
Versatile
Awesome Features in price
CONS: THINGS WE DIDN'T LIKE
No threaded Barrel
High FPS for some Fields
A SHORT OVERVIEW:
This gun is simply a beast and can beat every single competitive gun in the market. It is also a close replica of the M4. 
It comes with a full metal high-quality red dot sight, that gives you a great advantage when shooting for a far distance. You might need to test it a little bit and make sure it's synchronized with the gun for the first few shots, but once it's done, that is an amazing add-on to your gun.
The R8-L comes with a longer barrel than usual to improve accuracy. The inner barrel is 357mm and provides a strong shot.
Even though this gun is not a full-metal gun, it is still very sturdy and gives a good strong feeling when holding it and walking around in a shooting position.
The body is made of lightweight ABS plastic, combined with a metal gearbox and metal gears.
This combination provides the exact lightweight /durability balance, so you can have a gun that you can use for long fighting sessions without killing your wrists and arms. That said, the total weight of the gun and the scope is 2545g (5.6lbs), which is not far from the actual M4 weight (around 7.5bs).
The R8-L also features a full length 20mm RIS/RAS rail on all sides, giving you tons of space to mount any addon you would like. I would definitely add a laser sight on the bottom or the side, and a flashlight – sounds like a dream.
The stock can be adjusted, giving the gun a length of 830mm – 925mm, depends on how you use it.
As a rule of thumb, shorter is better for short-range, and longer will be better for long-range. 
Of course, this is just a rule of thumb. Your gun, your rules.
The magazine can hold up to 300 rounds, equivalent to 10 real-ammo magazines. And with a 340 FPS average, this gun is just a killer. Two firing modes for the R8-L – Semi and Full Auto. And on top of all that, a 16000 RPM powerful High-torque long axis motor.
This gun is the real deal, if you are looking for a gun that can provide power, fun, accuracy and also lasts when abusing it here and there – this is the gun for you.
Features:
Metal gears
Metal gearbox
Adjustable Length
Weighed realistic
Accessories can be attached through RIS
Adjustable Precision
FPS: 360
Full-length rail 
Semi, Auto & Safety Fire Mods
Red Dot Sight
Performance:
Here this gun shows it's competency. It shoots on a consistent speed and hits the target very accurately. This gun is very reactive and shows a quick response. Its range is also very good and runs with the same accuracy both from medium and Long ranges.
The built quality of this gun enhances its performance. This gun performs like a realistic assault rifle, and together it's accuracy, consistency, range and realism made this an our Favorite choice for Best Airsoft Guns.
PROS: THINGS WE LIKED
Highly Precise
Compact Design
A Fast Trigger
CONS: THINGS WE DIDN'T LIKE
Red Dot Sight needs some work on the first use
(Best Airsoft Gun for Beginners)
A SHORT OVERVIEW:
Best Beginner Airsoft Gun. If you have read our Ultimate guide on "How to choose an airsoft gun" we have recommended this gun as Best Beginner gun, but this gun has all characteristic Features of High-Level gun; therefore we are putting this among Best Airsoft gun.
The Best Thing about this gun is that because it is economical with some brilliant features, many veterans use this as their secondary weapon.
Made by a Trustworthy Brand G&G and upgraded into 2.0 Version this gun is legit in getting its place in the List. Like it's an older version, this version has almost the same appearance, but the Front Rail is modified to look more attractive and Probably to lose some weight as well.
The Two-piece barrel is metal while almost the Rest of the body is a polymer. The gun has the same adjustable stock but in upgraded form for a better grip.
The Built Quality of this gun with the appropriate use of metals rails made this gun easy to balance with no wobble. Also, its staff is not so heavy, so as mentioned above, this made this perfect for beginners. Version 2.0 has made this gun Further superior to other firearms. Talking, in short, you will not find any gun of such control and Balance in this price range.
Features:
Adjustable Length
Polymer Receiver
M-LOK handguard
Adjustable Front and Rear Sights
Full Version 2 gearbox
Flexible five-position stock
FPS: 350-370
Long type Motor
Adjustable Hop-up
Performance:
You can guess the performance of the gun by the Features it has. Coming in economical Range this not only has all heavy guns Features but also shows the same kind of performance. Due to its, comfortable grip, it is efficient in quick combat.
Its lightweight makes a good effect on the performance. Like its older version, it shoots at a pretty range with a Fine accuracy. It Fires quietly as compared with other AEGs. The Fire rate and Trigger Response is also satisfactory.
Looking at the Features, you can get an idea that, this gun have costly characters but within a reasonable price. Easy to Handle with Durability and Modification ability make this gun favorites of Beginners as well of Veterans, both as a Primary and Secondary Weapon. Grab this Gun if you want to get Lovely Features in Beginner Mode.
PROS: THINGS WE LIKED
Economical
Good Grip and Stock
Maintenance Free
CONS: THINGS WE DIDN'T LIKE
Disturbing ForeSight
Harder to Fix attachments
(Best Airsoft Gun for Beginners)
A SHORT OVERVIEW:
A G3 action scaled Down to 9mm; the MP5 is widely used as an assault rifle and Probably the most commonly used shoulder weapon.
The Airsoft Versions of these MP5 are created by Elite Forced and fully Licensed by H&K.
Coming to the Physical appearance of a gun, it comes with the fixed stock, while on the front there is an excellent looking handguard which provides an excellent handgrip and making shooting easy. The Special design of its handguard made the gun not too heavy and kept the weight within the Limit.
The Gun Look compact from its look. Not only it's looks are attractive but also feels very sturdy in hand. When grasped in hand, it gives a sort of realism like many other airsoft guns.
Those who are a fan of reliable firearms that will not damage by dropping from your hands, this gun is made for them. For Attaching the Battery, you have to remove the gunstock.
There is an older version of this Gun, which looks almost the same in appearance. The Difference is in GearBox. Now we see fully Upgradeable V2 GearBox. Previously, Veterans have some questions regarding the performance of the old version, but this beautiful new version is efficient enough to stand as a Good assault Rifle.
Features:
Metallic upper receiver and barrel assembly
Nylon Polymer Handguard and Lower Assembly
Adjustable Rear Sights and Fixed Rear Sights
Fixed Length
FPS: 370-390
Semi/ Auto & Safety Fire Mods
Long Type Motor
Adjustable hop-up
Performance:
This MP5 A4 Gen.2 Rifle has way better performance than it's the old counterpart. Its shooting speed is consistent and accurate, but this is not a very long-range gun. Due to its compact design, it fits perfectly into the hand.
Its design makes this a perfect weapon for Close Quarters Combat when you have to rush to your opponents, jumps through the windows, have to fire quickly with Good Accuracy.
The swift Grip of gun enhances the performance of the gun, as it makes the gun easy to handle without creating a cumbersome situation. 
You can also use this gun as your secondary weapon, if your main gun is disturbing you in quick movements. For increasing the performance for long range, you have to upgrade this Gun. 
PROS: THINGS WE LIKED
Real & Compact Design
Good Rate of Fire
Powerful Propulsion
CONS: THINGS WE DIDN'T LIKE
Magazine Compatibility
Require Upgrades for full functioning
(Best Budget Airsoft Gun)
A SHORT OVERVIEW:
A G3 action scaled Down to 9mm; the MP5 is widely used as an assault rifle and Probably the most commonly used shoulder weapon.
The Airsoft Versions of these MP5 are created by Elite Forced and fully Licensed by H&K.
Despite the fact that AEGs have conquered the Airsoft Market, spring Airsoft guns still are handy for Good combat and for a number of reasons. This is the First and single spring Airsoft gun in our list.
The simple thing about the spring Airsoft guns is, you have to cock it every time before firing. For some people, it is a burdensome task, but for many, it makes the game more challenging and realistic. But looking at the Features of this gun, we have placed it on our list.
This gun looks like a Traditional hunting rifle with the Body made up of polymer. Like the AEGs and GBBs, this gun doesn't have any Fancy hand-guard or keymod rail but a simple design with a long barrel.
The Trigger guard is large and makes firing easier. The second hand could be placed on the lower rail just before the alone continuation of the long barrel. So overall grip is fine and comfortable. The stock is fixed, which makes this gun quite difficult to move as swiftly as the requirement of quick combat.
Features:
M700 type stock rifle
Fixed Length
Spring Powered Bolt Action
Metal bolt assembly and trigger box along with a weather-resistant finish
Functional Safety
Aluminum Barrel
FPS: 400
Adjustable hop-up
55 rounds Magazine capacity
Performance:
Although this gun is not so beautiful in design, the reason to stand in the "Best Airsoft Guns" list is the performance. This is more than a simple spring airsoft gun, rather a sniper rifle. It fires at a pretty solid velocity with no drop in FPS. The modified aluminum Barrel enhances the accuracy and consistency of the gun.
The accuracy remains the same with a range of more than 200 feet, which is the range of expensive AEGs. The Best thing about this gun that is not in any AEG or GBB is you can play with it in intense weather.
So, whether it is summer outside or cold this gun will perform the same irrespective of the weather. In my opinion, this could be among the Beginner Best sniper rifles. But one thing I must mention about this gun is never used for a CQB because it is difficult to handle in quick conditions.
If you want something great within an affordable price and better performance you should go with this gun.
PROS: THINGS WE LIKED
Affordable Price
Heavy and Accurate
Compatibility
CONS: THINGS WE DIDN'T LIKE
Not very solid Design
Not as realistic as expected
What to Look For In an Airsoft Gun
If you are playing airsoft for quite some time, probably you already know, what kinds of guns you are comfortable. And if you still need some suggestion about airsoft gun that is okay too.     
But if you are new to the airsoft world, this airsoft gun buying guide is for you. And before you can pick the right one for yourself, you need to know a few things about airsoft guns.     
Different Airsoft Gun Types     
There are different kinds of airsoft guns out there. If you are new into the game, you shall quickly notice that (if you already haven't that is). The best airsoft guns may vary depending on whether it is gas-powered or spring-powered or AEG. So to know the best airsoft guns for you, let us discuss the guns' types first.     
These are the most common type of airsoft guns that you can see around-     
Automatic electric guns      
Automatic electric guns are usually known as AEGs. They have a battery inside them which needs to be charged before the game. You can shoot and play airsoft as long as you have a charge in your AEG guns.      
Gas guns      
Gas guns use gas to fire the bbs. It is also widely used, as the AEG guns. The gas chamber of the gun throttles out the projectile to the target pretty accurately.     
Spring powered      
Spring-powered guns are pretty old fashioned nowadays. It uses the spring power of the gun to fire the plastic pellets. Spring-powered guns have many problems which the AEGs came up with a solution with. For example, it can cause a malfunction in the midst of the game. The spring may not work.     
Different Airsoft Roles     
When you play airsoft, you choose a certain role to play as. You can play as a sniper or a medic or a rifleman. And not to mention, their weapons vary from each other. So first find out which airsoft role do you prefer to play?     
Sniper
Snipers are the most popular in airsoft. They can take out enemies from 300/400 yards distance or more. So, for snipers, you should choose the best sniper rifle from the list given below.     
Rifleman     
The riflemen are the main force of the airsoft team. They march and charge forward and completes the mission. If you opt to be a rifleman, choose the assault or submachine gun from the list.     
Medic     
When we play airsoft we allow the medic to have a single pistol or revolver or a handgun. So, if to pick the best airsoft pistol, look below.     
Designated Marksman    
Designated marksman is often mistaken as a designated marksman. But they are very much different. To know the difference between designated marksmen and snipers, go read the other article that I linked. 
Different types of airsoft roles
Recon    
Recons are the ones who always play in the frontline. They are the ones who clear the rooms. Sometimes recons play the diversions to lure out the enemy sniper's position.     
So, the best guns will depend on which role you play airsoft as. At first, choose your role. Then you can choose the best gun that suits your role.    
Conclusion
After "Does Airsoft Hurts?", a very often asked question is "In airsoft, Does price relates with Quality?" This question should be answered before we move towards the real discussion. In airsoft, you will get all the basic and some advanced features in a 100-200$ range gun.
But as you move on, Quality of Product becomes better and Better like Control of gun over a shot, accuracy control, Material of the Gun and all other such things. So, We can say that Price and Quality or not Directly Related, but somehow they impose an effect on the other.
In short, If you the requirement is basic stuff then you should see a Beginner Level gun within the Price as mentioned above. But if you best Airsoft Experience spending a few more dollars will be Perfect.
Be sure to check our roundups for SMG and DMR. 
So that was all about Best Airsoft Guns. We Hoped you would get a choice to buy an Airsoft gun for you. Share it with your friends. Thank you for reading.